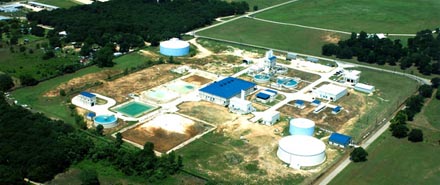 The Surface Water and Treatment System (SWATS) expansion is a $24.5 million reverse osmosis water treatment plant owned and operated by the Brazos River Authority (BRA). The BRA SWATS is a regional system that treats and supplies potable water to customers in Hood and Johnson counties, southwest of Fort Worth. Plummer services included the following:
Process evaluations, pilot studies of microfiltration / ultrafiltration (MF/UV), and reverse osmosis (RO) membrane units, and feasibility studies for expanding the BRA Lake Granbury Surface Water Treatment Plant from 5 MGD to 14 MGD.
BRA preferred the UF / RO option due to excessive operations and maintenance costs for the existing EDR units. The plant was unable to be taken out of service during construction, requiring extensive special construction sequencing requirements, and coordination between the plan operating personnel and the contractor.
Due to the high total dissolved solids content of Lake Granbury, the plant converted to dual membrane filtration with UF followed by RO for the expansion.
Lime softening was used in the 15 MGD conventional treatment facilities, utilizing solids contact clarifiers as pretreatment to remove barium followed by recarbonation with CO2 The existing filters were rehabilitated by replacing the under-drain sand and anthracite media. New raw water and high service pumps were added, as well as a new baffled clearwell.
A specially designed plate and frame press was chosen to mechanically dewater the lime sludge prior to final disposal in a landfill. The plate and frame press was picked due to its high-percent cake, dependability, and long-term durability in lieu of a less expensive belt press or centrifuge.