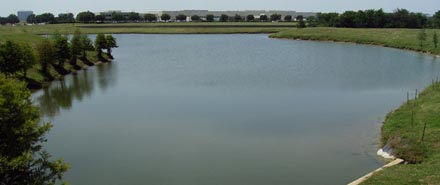 Plummer assisted the Trinity River Authority (TRA) with an assessment of the uses of the Lake Remle System in Las Colinas, which is owned and operated by the Dallas County Utility and Reclamation District (DCURD). The System receives reclaimed water from TRA's Central Regional Wastewater System (CRWS). In 2008, the Texas Pollutant Discharge Elimination System (TPDES) permit issued for the CRWS required that an assessment of the Lake Remle System be performed. Plummer conducted the following activities:
Activity A:
Data gathering and determination of appropriate aquatic life uses (ALUs) for the water bodies of the System, for which the following tasks were performed:
Historical use assessment
Bathymetric analysis
Hydrologic analysis
Water quality sampling
Nekton (fish) sampling
Habitat assessment
Activity B:
Development, calibration, and application of a water quality model of the Lake Remle System to determine appropriate discharge limits at Outfall 002 (to the Lake Remle System) based on ALUs developed in Activity A.
Plummer determined appropriate aquatic life uses for the waterbodies of the System. The determination was submitted to the Texas Commission on Environmental Quality (TCEQ) for consideration. Site-specific data was obtained for the Lake Remle System and used to develop a water quality model in consultation with TCEQ to identify appropriate effluent quality limits for Outfall 002 in the CRWS permit.