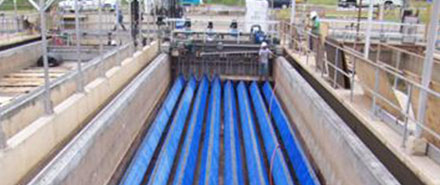 Plummer assisted the Trinity River Authority in replacing ten existing sand media traveling bridge filters with ten diamond cloth media filters manufactured by Aqua-Aerobics, Inc. The major advantages of cloth-media filters in comparison to traveling bridge filters are:
Significantly shorter backwash times that allow for higher solids loading capacity.
Greater filter surface area that allows for increased flow through the same footprint.
A reduced amount of total backwash water is used even though instantaneous rates may be higher.
The diamond units are designed to increase the peak flow capacity of each filter by 2.4 times while maintaining comparable solids removal rates at design flow and providing higher solids removal during high solids loading events.