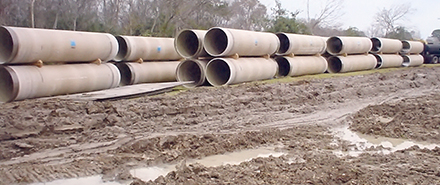 For this project, Plummer designed a 54-inch pipeline. Phase I consisted of sliplining approximately 2,500 lf of 54-inch RCP gravity interceptor. The project design, based on record drawings and videotape of the interceptor interior, allowed use of SDR 21 HDPE or Hobas "smooth joint" pipe. 
Two single-barrel inverted siphons were present. The first was bypassed, cleaned, and videotaped to determine the need to rehabilitate the siphon using the specified cure-in-place product. The use of the Insituform product, bid as an alternate item, was not necessary as the existing Spirolite siphon was in good condition. The bid design for the second siphon included construction of new two-barrel inverted siphons by directional drilling. 
HDPE pipe was employed for the siphon. Due to conflicting utilities, the siphon design was modified during construction to provide one barrel by directional drilling and the second by sliplining. Associated cast-in-place junction boxes were T-lock-lined for corrosion protection. 
The project included groundbreaking pre-cast Hanson Pipe manhole bases that were to be manufactured in the yard with lateral pipe stub-outs in place. Bid of Phase II included the sliplining of 10,000 lf of 54-inch interceptor. While Phase I rehabilitated 2,500 lf of interceptor paralleling a railroad right-of-way and drainage ditch, the second phase of construction lies beneath residential city streets. The design included rehabilitation of approximately 500 lf of 10-inch gravity lateral by pipe bursting using 8-inch HDPE.