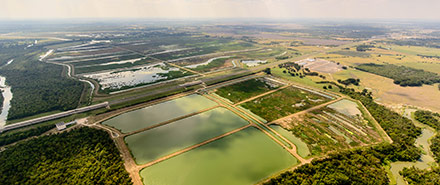 Representing the largest project in Texas using reclaimed water to augment a surface water supply source, the East Fork Raw Water Supply Project provides the North Texas Municipal Water District (NTMWD) up to 102,000 acre-feet of water per year, which is enough water to serve 500,000 people. Plummer provided planning, permitting, environmental services, design, and construction representation support for the project. Completed at a cost of less than 25% of developing a new reservoir and in about 20% of the time, this award-winning project replicates the yield of a new reservoir on less than one-tenth of the footprint needed for a reservoir. As such, it is a signature solution of innovation.
The East Fork Raw Water Supply Project includes the following major components: 
Diversion pump station – This facility includes a river intake structure and pump station with the capacity to divert up to 165-mgd (peak) of water into the wetland.

Constructed wetland – Situated on a footprint of approximately 2,000 acres, the constructed wetland includes three sedimentation basins and 24 wetland cells. The sedimentation basins are used for pretreatment of diverted river water prior to the constructed wetland.  No chemicals are used to enhance particulate removal—only gravity settling. The wetland utilizes natural treatment mechanisms powered by sunlight, wind, plants, and microbes to further reduce suspended solids and dissolved constituents such as nitrogen and phosphorus that would otherwise impair the quality of the water in Lavon Lake if it were pumped directly from the river.

Conveyance pump station and pipeline – This system includes an intake structure and pump station with the capacity to convey up to 150-mgd (peak) of wetland-treated water to Lavon Lake. The pipeline consists of 43.5 miles of 84-inch-diameter pipe running through Kaufman, Rockwall, and Collin Counties. It crosses two interstate highways and includes over a mile of combined tunnels.  

John Bunker Sands Wetland Center – Developed through a partnership between NTMWD and Rosewood Corporation, this facility provides opportunities for research, education, wildlife observation, and community gatherings within a modern, environmentally-conscious facility and grounds.
In 2004, rapid growth within NTMWD's service area created a critical raw water supply shortage. Existing plans for development of new surface water supplies could not be completed in time to meet the short-term demands. The East Fork Raw Water Supply Project was permitted, designed, constructed, and placed into operation within a period of five years, allowing NTMWD to continue its commitment of providing water for an ever-increasing human population while conserving the ecological integrity of our environment. The multiple benefits achieved with the constructed wetland system enable the partnership of NTMWD and Rosewood Corporation to achieve more efficient use of limited water supplies while protecting receiving waters, preserving green space, restoring habitat and increasing habitat diversity, reducing demand on fossil fuel energy consumption, sequestering carbon, and providing opportunities for public education and outreach.
The East Fork Raw Water Supply Project represents a sizable percentage of NTMWD's overall raw water supply. The project not only delayed the need for the development of new surface water supply reservoirs but also created approximately 2,000 acres of wetland habitat. Over 250 different species of birds have been documented at the wetland. Awards for the project have included the Water Reuse Association 2008 Large Project of the Year, National Association of Environmental Professionals 2012 National Environmental Excellence Award, Texas ACEC 2012 Engineering Excellence Gold Medal Award, National ACEC 2012 Engineering Excellence Honor Award, and North Central Texas Council of Governments 2013 Celebrating Leadership in Development Excellence (CLIDE) Award.
For more information on the John Bunker Sands Wetland Center, click here.