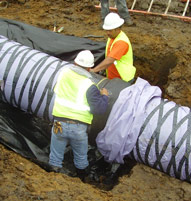 Engineering Intern – Conveyance (Oklahoma City, OK)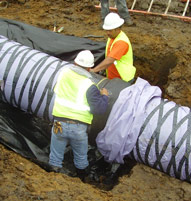 Are you an aspiring engineer looking for an opportunity to work with a collaborative, talented, passionate team where initiative is rewarded?  Alan Plummer Associates, Inc., an Environmental Engineering consulting firm celebrating its 37th anniversary, not only fits that bill, but offers far more.
Alan Plummer Associates, Inc. invites qualified, highly motivated individuals interested in joining our Conveyance Team to complete our application process to be considered for an engineering intern position to provide support for Project Managers and Engineers in our Oklahoma City, Oklahoma Office. This position is geared to Junior/Senior level Civil Engineering students or graduate students.
APAI seeks candidates who are innovative and creative; and capable of performing individually or on a team. The bulk of the assignments for this internship will be related to conveyance projects.  Specifically, the selected intern will gain experience with the creation, calibration and development of conveyance facilities including, large and small diameter pipelines, pumping systems and structure coordination. The position involves the use of Excel spreadsheets, MS Word, AutoCAD and GIS to create drawings, specifications, reports, mapping and other documents.  Through these projects, the intern will learn about Oklahoma's water supply and distribution system.
Any prior experience or classwork related to topics such as hydraulics, pumps, piping, structural analysis, or geotechnical engineering would be considered very desirable.
Essential Functions
Assists Conveyance Teams' staff with review and evaluation of data associated with design projects, hydraulic analysis, budget spreadsheets and design aspects of conveyance projects.
Assists managers and engineers with proofing and editing documents.
Assists with preparation of reports and GIS mapping.
Other duties as necessary within the Conveyance Team.
Competencies
Microsoft Office proficiency, including Excel, required
Working knowledge of Access, preferred
Working knowledge of AutoCAD, preferred
GIS
Personal Qualities: Motivated and hard-working; attention to detail and ability to gather data; excellent oral and written communication skills; capable of multi-tasking on several projects. Independent, self-directed worker; knows when to stop and ask questions; loves researching and solving complex problems. Fits in company culture of integrity, kindness, service and excellence.
Supervisory Responsibility
This position has no direct supervisory responsibilities.
Position Type/Expected Work Hours
This is a temporary part-time position that is expected to work less than 20 hrs/wk. Days and hours of work are flexible during regular office hours of Monday through Friday, 8:00 a.m. to 5 p.m.
Travel
Travel is not expected for this position's essential job duties.
Qualifications
Enrolled in a Civil, Chemical, or Environmental Engineering degree program at an ABET accredited university. Must have a minimum GPA of 3.0.
Education course work, with a completion grade of B or higher, in a minimum of 2 of the following courses: fluid mechanics, hydraulics or hydrology, geology, a geotechnical area, structural analysis, water resources, water chemistry, water treatment, and/or wastewater treatment.
Additional Eligibility Qualifications: Any prior experience or classwork related to the topics of hydraulics, water chemistry, technical writing, GIS, AutoCAD, construction, engineering economics, leading/training others and/or working with others would be considered very desirable.
Work Authorization/Security Clearance Must be able to legally work in the United States without sponsorship
All qualified applicants will receive consideration for employment without regard to race, color, religion, sex, national origin, disability, or protected veteran status.
Ready, set go! Click here to apply